How to Keep Safe with Evacuation Schemes and Other Emergency Procedures
Evacuation schemes for fire emergencies are vital for the effective running of a business.
Why Evacuation Schemes are Important
Evacuation Schemes help to protect people, your property and the world around you.
When people need to evacuate from a building, it is very important that the evacuation schemes are correct. This helps people exit safely and without any mistakes.
Evacuation schemes sometimes need updating. An example would be if there was a change of ownership of a building, or if it was to undergo major renovation.
The evacuation procedure would be very different if there was a major change of building use, such as a café converting into a childcare centre.
Evacuation Schemes are submitted to Fire and Emergency New Zealand for review before an approval can be given. This is so they already have some understanding of your building if they are ever called out to an emergency there.
Trial Evacuations are Important Too
Another thing to remember are Trial Evacuations. Yes, they can be pesky, especially when you're at work and in the zone, but the best way to learn what to do in a real emergency is through practice!
Trial Evacuations need to be conducted every 6 months. Some sites have more regular trials as part of their staff training.
Through trials, you can memorise the emergency procedure and familiarise yourself with the wardens and fire exits.
Emergency Procedure Training
Building and Fire Services and Training 4 Safety have recently focused on training for other emergencies that could happen in your workplace. It's important to understand the things that could go wrong and how to plan for them in advance.
Some examples of those emergencies could be:
earthquakes
floods
power outages
tsunamis
armed robberies
hostile intruder
cyber attacks

Many of our online training courses help you learn what to do in these emergency procedures, such as our Emergency Warden Training course.
Emergency procedures are important for the safety of your workplace, so Building and Fire Services are here to help. Please contact us if you are needing evacuation schemes, trial evacuations, emergency procedure training or any other information about being prepared for emergencies.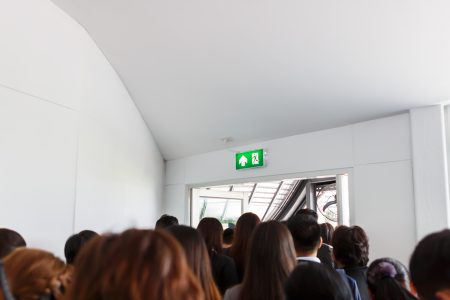 Back