Our 2022 Year in Review
Well, it's the time where we review the past year and plan for the next! It's been an exciting year for Building & Fire Services, we had a successful 2022. In the past year, we've accomplished a lot and are proud to share some of our key achievements with you.
Our Achievements Through the Year
One of the major accomplishments for the company was passing our latest ISO audit with SGS. This takes weeks of preparation, ensuring the systems we have in place are all up to standard. We also achieved SiteWise Gold with an assessment rate of 100%! Mike judged the Northland Business Excellence Awards, which was a great honour for him.
Industry Changes and How They Affected Us
In addition to these achievements, we were able to navigate several significant changes within the industry. The introduction of new building codes and regulations in New Zealand meant there were many things to keep in mind for us and others in the industry, but the team was able to adapt and continue to provide high-quality services to our clients. Fire and Emergency NZ has been ramping up the need for Evacuation Schemes, so it has been one of our busiest years for these!
Launch of our New Division
One of the key highlights of the year was the launch of our new division, Fire & Safety Design. Over the past few years, our directors, Mike Lindsay and Kirk Barrell, have seen the desire and need from clients for a specialist fire and safety design service here in Whangārei, offering more technical and creative work. We have provided a number of these services in the past, so we felt it was the perfect time to separate this from our other businesses and create a specific division.
Shout out to our Suppliers
Building & Fire Services have developed relationships with leading fire safety equipment suppliers, which has allowed us to offer a wider range of products and services, with high quality equipment.
New Faces and Sad Goodbyes
We gained new staff who have either recently relocated to Whangārei or were looking for a change. It has been great to have new faces on the team! We have also employed three new apprentices, gaining more young people into the industry. They have really impressed us and have been very passionate in learning all about the fire safety industry! But sadly some of our team also left us as they seek out new paths now the world has started opening up again. It is sad to see our team go but we wish them all the best with their future endeavours!
Giving Back to the Community
In addition to our accomplishments and growth, we have also made a commitment to giving back to the community in 2022. We participated in several local events and fundraisers, and donated a portion of our profits to a variety of charitable organisations.
Looking ahead to 2023
Looking ahead to 2023, we are excited about the opportunities that lie ahead. We plan to continue expanding our services and product offerings, and to further strengthen our relationships with clients and partners. The team at Building & Fire Services is dedicated to providing the highest level of service and expertise to our clients, and are committed to maintaining our reputation as a leading provider of fire safety services in Northland.
Overall, 2022 was a successful and rewarding year for Building & Fire Services, and the company is looking forward to continued growth and success in the coming year.
Thank you to our customers for a great year, and we look forward to seeing you in 2023! Happy holidays from the team at Building & Fire Services!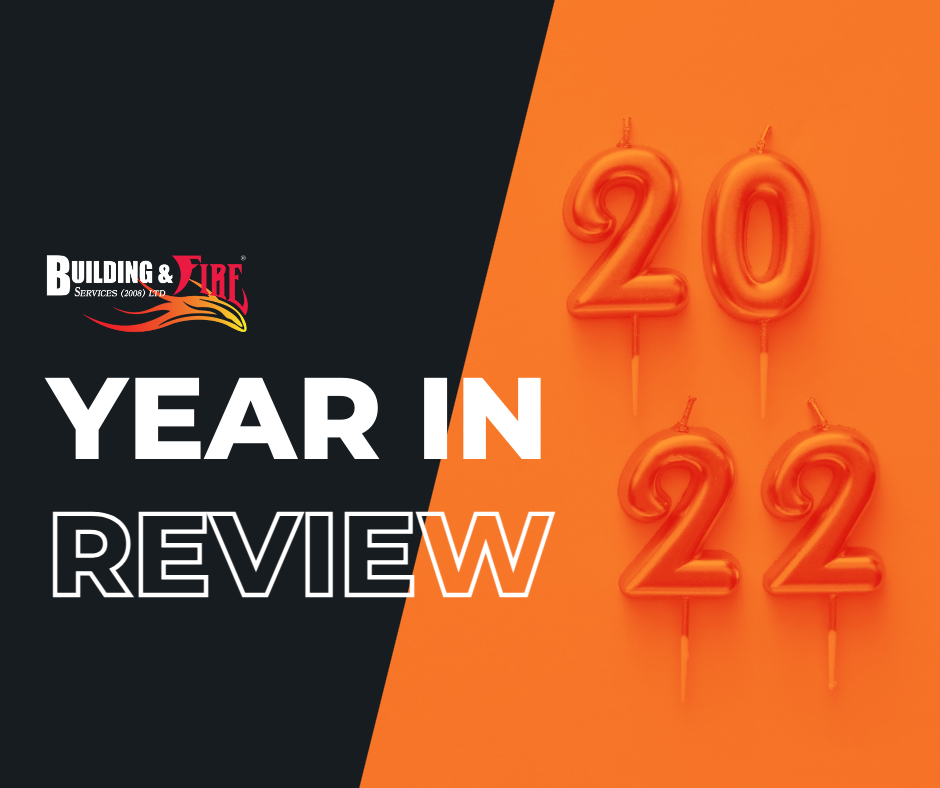 Back